Forklifts are great for heavy work, which is why people buy forklifts to facilitate their work. You can find many types of forklifts on the market, but it's important to choose the one that's right for you. You'll find
diesel forklifts
for the heavy lifting. People have seen people buying diesel powered forklifts over any other forklift in the store. But, now the question arises, what good is a diesel powered forklift.
Diesel forklifts are stronger
According to some users, diesel powered forklifts are very powerful compared to other forklifts. They are even considered faster and more efficient. Some users feel that some diesel forklifts do not emit as much smoke as gasoline forklifts. There are forklifts that can be used not only outdoors, but also indoors. However, most forklifts are used in warehouses. Diesel powered forklifts are known to have the highest lifting capacity. That's why people buy it. Even if you buy a forklift for your use, you need to decide whether to buy new or used. As you know, buying a forklift for you can cost you a lot, so you need to determine the type of work you do.
good speed
As can be seen, diesel powered forklifts have good speed compared to other forklifts. However, it is important that you buy a diesel forklift from a good forklift dealer to get the best forklift for you. It can also be seen that diesel forklifts have a long service life. And you will also find it very friendly and comfortable for you. However, the lifespan of a diesel forklift may vary depending on your usage, which is always important. Therefore, it is very important to use it when it is absolutely necessary to carry out the work.
With the advancement of technology, many different types of diesel forklifts have appeared in the market. It also has different power ranges. If you need it for heavy work, it's important to choose a high-powered one for your use. So be sure to take a good look when shopping for a new or used diesel forklift for you. So, you have seen the benefits of diesel powered forklifts. Make sure to get the right product for you based on your budget and requirements.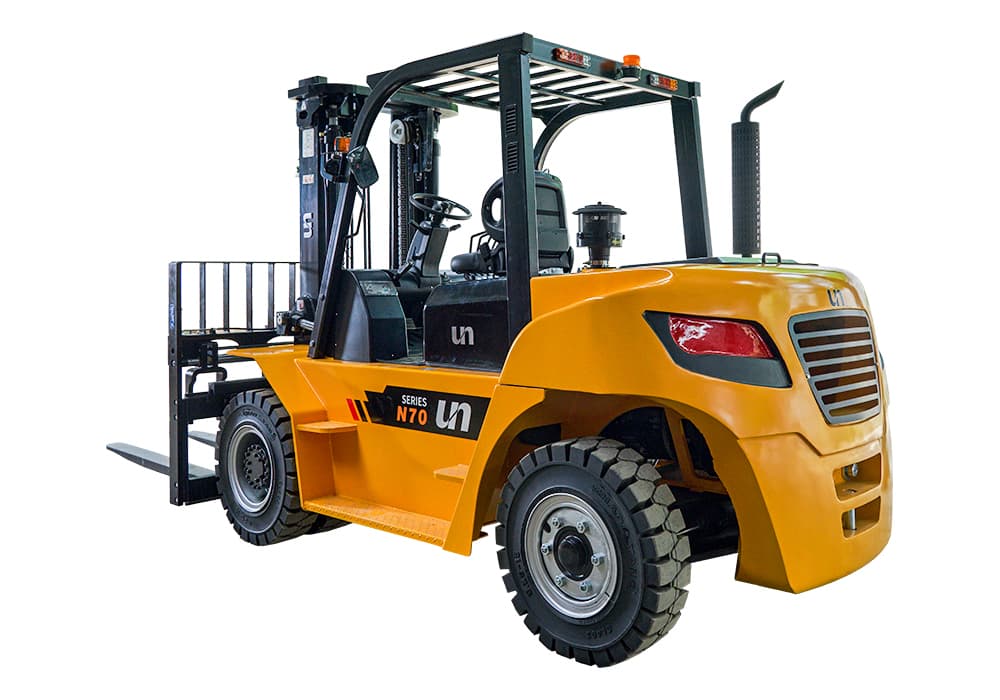 N Series 5.0T-7.0THeavy Duty Diesel Forklift
UN 5.0T-10T diesel forklifts are especially designed for heavy duty applications maximum efficiency and lowest operating cost. It adopts leading design, manufacturing technology and reliable power train and hydraulic systems.
All models have been tested by the market that they can be trusted for all industries and get recognition from millions of clients across the worldwide.