Forklifts can generally be divided into three categories: internal combustion forklifts,
electric forklifts
, and storage forklifts.
Internal combustion
Internal combustion forklifts are divided into ordinary internal combustion forklifts, heavy-duty forklifts, and container forklifts.
① Ordinary internal combustion forklifts: generally use diesel, gasoline, liquefied petroleum gas or natural gas engines as power, with a load capacity of 1.2 to 8.0 tons, and a working channel width of 3.5 to 5.0 meters. Workshops or other places with no special requirements for exhaust emissions and noise. Due to the convenience of refueling, it can realize continuous operation for a long time, and it can work in harsh environments (such as rainy days).
② Heavy-duty forklift: using diesel engine as power, carrying capacity of 10.0 to 52.0 tons, generally used for outdoor operations in the wharf, steel and other industries with heavy cargo.
③ Container forklift: using diesel engine as power, carrying capacity of 8.0 to 45.0 tons, generally divided into empty container stacker, heavy container stacker and container reach stacker. For container handling, such as container yard or port terminal operations.
Electric: powered by electric motor and battery as energy. The carrying capacity is 1.0 to 8.0 tons, and the width of the working channel is generally 3.5 to 5.0 meters. Because there is no pollution and low noise, it is widely used in indoor operation and other working conditions with high environmental requirements, such as food and other industries. With the emphasis on environmental protection, electric forklifts are gradually replacing internal combustion forklifts. Since each set of batteries generally needs to be charged after about 8 hours of work, backup batteries are required for multi-shift working conditions.
Warehousing: Warehousing forklifts are mainly forklifts designed for cargo handling in warehouses. Except for a few storage forklifts (such as manual pallet forklifts) that are driven by manpower, others are driven by electric motors, which are widely used in the storage industry because of their compact body, flexible movement, light weight and good environmental performance. When working in multiple shifts, electric motor-driven storage forklifts require backup batteries.
Truck: The carrying capacity is 1.6-3.0 tons, the width of the working channel is generally 2.3-2.8 meters, and the lifting height of the fork is generally about 210mm. It is mainly used for horizontal handling and cargo loading and unloading in the warehouse. There are three operating modes, such as walking, standing and sitting, which can be selected according to efficiency requirements.
Stacker: Electric pallet stacker is divided into two types: full-electric pallet stacker and semi-electric pallet stacker. As the name suggests, the former is for driving, and the lift is electrically controlled, which is more labor-saving. The latter requires manual pulling or pushing of the forklift, and the lifting is electric.
The carrying capacity is 1.0-2.5 tons, the width of the working channel is generally 2.3-2.8 meters, and the structure is more gantry than the electric pallet handling forklift. The lifting height of the fork is generally within 4.8 meters. loading and unloading.
NL Series 2.0T-3.5T Li-ion Battery Forklift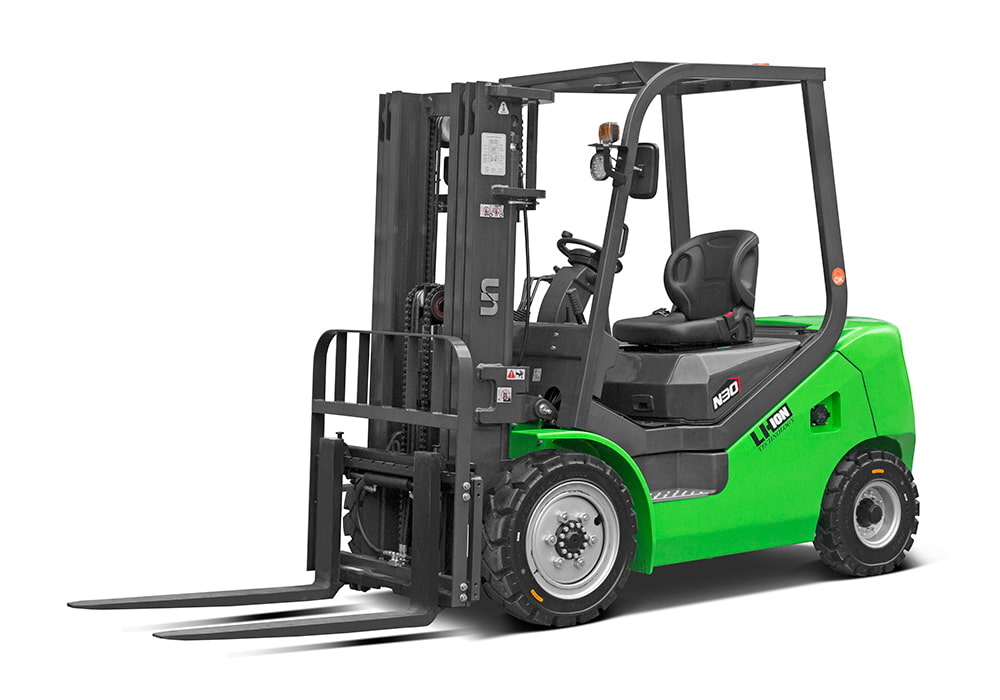 The NL series new lithium battery forklift, capacity from 2,000 to 3,500kg, adopts UN internal combustion forklift 's design with the strong chassis, frame, counterweight and mast.
The power structure is designed to adopt UN electric forklift's concept, which use full AC system, Italian imported ZAPl controller, BMS control system and high quality lithium battery.
This combination of IC forklift and electric forklift makes an ideal solution to reach customers' satisfaction on cost saving and environmental friendly.