There are many types of reach forklifts to choose from. There are pantographs, straddles, mobile masts and reach trucks. Each type has its advantages and disadvantages. Choosing the right reach truck for your workplace is a critical decision. These products will ensure your employees are safe when lifting heavy objects.
A
reach truck
is a versatile and cost-effective warehouse option. They can be rented for short periods of time, are very secure, and offer a high level of productivity. Reach forklifts offer comprehensive maintenance and service support. They can be as short as a day or as long as several months. Whether you need a truck for short-term or long-term use, we can help you find a solution.
Reach trucks offer a high level of safety, and the electric option eliminates emissions. These vehicles are ideal for indoor use and are lightweight. Another advantage of Flexi trucks is that they can work in tight aisles and can significantly increase storage capacity.
mobile mast reach truck
Mobile mast reach trucks provide an efficient and versatile solution for high bay, narrow aisle storage applications. Depending on the application, these trucks can range in weight from 3,000 pounds to 5,500 pounds. To find the right model, contact the Yale Solutions team to discuss your specific needs. Yale Mobile Mast Reach Forklifts are packed with features that improve safety and efficiency, including higher travel speeds, crawl speed capabilities and greater precision.
Mobile mast reach trucks are designed with the operator in mind. With the ergonomically designed seat, the operator is more comfortable even during long shifts. The ETV/ETM 3 Series features a seated operator to reduce fatigue and help increase productivity. Additionally, this new range includes an advanced mast design for better visibility.
Pantograph Reach Forklift
The pantograph reach truck offers an ergonomic and spacious operator compartment and a control handle that combines all functions into one handle to enhance operator performance. Electric power steering minimizes fatigue and improves accuracy when handling loads. Its display panel includes three programmable performance levels, an LED battery charge indicator and tilt position assist.
Mitsubishi pantograph reach trucks have a capacity of 3,000 - 4,500 lbs. AC technology and AC braking system provide dependable performance and efficiency. Trucks are available for purchase or rental.
Straddle Reach Truck
Straddle reach trucks are similar to deep reach trucks, but they are designed for tighter turning angles and can lift heavier items. Although they are similar, straddle reach trucks weigh less than standard single, dual, or triple reach trucks. Still, they're capable of lifting heavy loads, making them ideal for warehouses, manufacturing plants, and other places with limited workspace.
The straddle carrier has a lower height and provides better visibility than other stackers. Their design allows for simple and fast maneuverability. They can be operated by one person and can handle heavy loads close to the ground.
Disadvantages of Reach Trucks with Movable Mast
A mobile mast reach truck is a versatile piece of equipment that offers warehouse workers several advantages. These trucks are ideal for handling pallets up to 41 feet in the air, and their small footprint increases their maneuverability and accessibility. They also feature optional 360-degree steering to improve their maneuverability and accuracy on the rack surface.
With speeds and power of up to 8.7 mph, they feature high visibility, fast lift speeds, and a large lift capacity of 3,000 to 4,500 pounds. Additionally, their high-visibility design helps them maintain motion control when lifting and lowering loads. In addition, mobile mast reach trucks have low energy consumption and can run two shifts on a single charge.
NL Series 2.0T-3.5T Li-ion Battery Forklift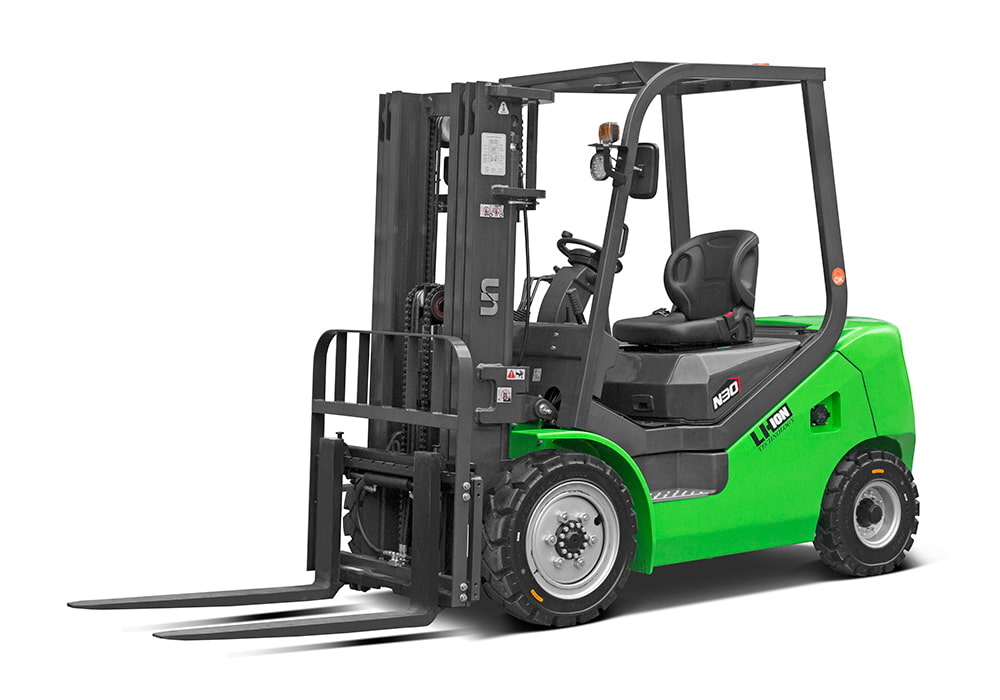 The NL series new lithium battery forklift, capacity from 2,000 to 3,500kg, adopts UN internal combustion forklift 's design with the strong chassis, frame, counterweight and mast. 
The power structure is designed to adopt UN electric forklift's concept, which use full AC system, Italian imported ZAPl controller, BMS control system and high quality lithium battery. 
This combination of IC forklift and electric forklift makes an ideal solution to reach customers' satisfaction on cost saving and environmental friendly.