Pneumatic forklifts are reliable, versatile and durable. They can handle indoor and outdoor lifting tasks. They are an excellent addition to any corporate fleet. They provide a high level of performance and consistency on the fly, which makes them ideal for any job. And, since they are reliable, they can last for years.
Electric forklift
When comparing the pros and cons of gas and electric forklifts, it's important to remember that both types do the same basic job: lifting, loading, and unloading product. Both are capable of moving large amounts of material with great efficiency. Both can safely lift and transport heavy loads, but electric forklifts are quieter and quieter.
Another consideration in choosing between gas and electric forklifts is fuel availability. While gas and electric forklifts use natural gas, electric forklifts can be used in remote areas. Electric forklifts are more environmentally friendly and tend to be cheaper in the long run. In addition to reducing operating costs, these forklifts can also be used indoors in certain environments.
Electric forklifts do not require extensive spare parts inventories and can operate for up to eight hours without refueling. They also generate less noise and vibration, reducing the risk of worker fatigue. Another advantage is that electric forklifts are more durable and reliable. Electric forklifts also have fewer moving parts. AC motor technology eliminates brushes, which helps improve speed control. In addition, electric forklifts come with a proper warranty.
Gas forklifts are initially cheaper but require regular maintenance. Gas forklifts require regular replenishment of fuel and oil, and may also require frequent handling of liquids. If you want to save money, this may not be a viable option.
A gas forklift is a versatile and durable lifting device. They are able to handle indoor and outdoor lifting jobs. Unlike electric forklifts, they do not require hours of charging and have low emissions. In addition to being environmentally friendly, they offer the best protection for your employees.
Gas forklifts are more affordable than electric forklifts. However, they require frequent servicing, which increases the maintenance cost of the forklift. However, gas forklifts are perfect for jobs that require moving heavy materials. Also, gas forklifts do not require additional storage space.
Linde gas forklifts have many safety features. Their low center of gravity, closed solid protection zone and durable transmission ensure their high safety. Low exhaust gas and low noise levels make these trucks ideal for indoor and outdoor work environments. Linde also offers retrofit options and add-ons for existing gas forklifts.
Gas forklifts are an affordable option for many companies. Compared to electric forklifts, they offer lower operating costs per hour, lower maintenance and parts costs, and a longer lifespan. And unlike electric forklifts, gas forklifts are flexible and environmentally friendly.
Gas forklifts are great for warehouse use and outdoor work. They are capable of handling uneven terrain and harsh weather conditions. They are also highly maneuverable and capable of reaching high speeds. They can even outperform electric forklifts in the same application. Also, gas forklifts do not require charging. Refueling is quick and easy.
diesel forklift
Diesel forklifts are an excellent choice for outdoor applications that require heavy loads. This type of forklift is usually larger than gas- or LPG-powered machines and requires more space to operate. It is also best suited for external storage environments. Here are some advantages of diesel forklifts:
Diesel forklifts offer high lifting capacity and are highly versatile outdoor material handling equipment. They come in a variety of lift heights and are available from a variety of manufacturers. Many of these brands offer specialized models for various applications.
One of the main advantages of diesel forklifts is fuel efficiency. They can run on several different types of fuel. Diesel fuel is more efficient than electricity. Electronics tend to drain their batteries faster. Also, battery-powered models may not be as reliable as diesel-powered forklifts. The fuel consumption of diesel forklifts may also vary depending on the operational requirements of the business.
Another benefit of diesel forklifts is their high speed and torque. This allows them to lift heavier loads and climb steeper slopes. They also tend to have lower maintenance requirements than their electricity and LPG counterparts. Diesel forklifts also have higher residual values ​​and are more economical.
N Series 3.0T-3.5T LPG&Gasoline Forklift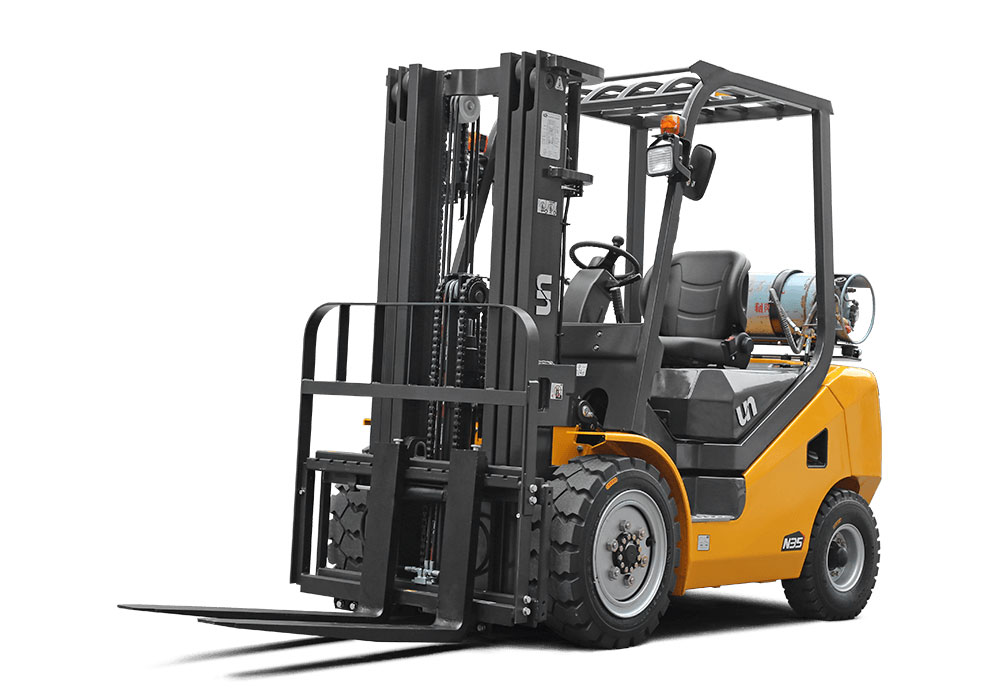 After many years' improving and upgrading, UN 1.5T-mini 5.0T LPG/Gasoline forklift has become one of the best in China. It adopts leading design, manufacturing technology and reliable power train and hydraulic systems.
All models have been tested by the market that they can be trusted for all industries and get recognition from millions of clients across the worldwide.
Reliability & Performance
Scientific design and manufactured truck body combines superior power train makes the forklift outstanding in performance and operation. The power train includes the well-known engine GCT K21/25 and Japanese level technology transmission. IMPOCO convert system.
Reliable hydraulic system adopts Japanese Shimadzu valve and pump or other brands with similar quality level, it ensure the high lifting and steering speed.
Advanced Cooling technology matching with large capacity radiator makes sure the forklift can work well even in hot area.