The
electric pallet stacker
is suitable for operations in narrow passages and limited spaces. It is an ideal tool for high-bay warehouses, supermarkets, and workshops for loading and unloading and stacking palletized goods. The electric pallet stacker adopts computer program control, stepless speed change, high-quality C-shaped steel refined wide-view mast, the maximum lifting height of 0.5T load can reach 5.2 meters, the maximum lifting height of 1T load can reach 4.5 meters, and the maximum lifting height of 2T load The height is 3 meters, the battery can be loaded and unloaded from three directions, and the operator's random pedal is optional. The all-electric stacker has simple structure, flexible handling and good micro-movement.
Electric pallet stacker can be widely used in petroleum, chemical, pharmaceutical, light textile, military, paint, pigment, coal and other industries, as well as places containing explosive mixtures such as ports, railways, freight yards, warehouses, etc., for loading, unloading, stacking and handling Operation. Cooperating with electric pallet stacking trucks, it can greatly improve work efficiency, reduce labor intensity of workers, and win opportunities for enterprises to compete in the market [1].
The electric pallet stacker is mainly used in storage and short-distance transportation of pallets and goods on shelves in warehouses and freight yards. It has a sturdy forklift-specific gantry (three-level gantry), imported electronic control and hydraulic units, and low noise. , No pollution, low failure rate, international classic style, can be designed according to customer requirements.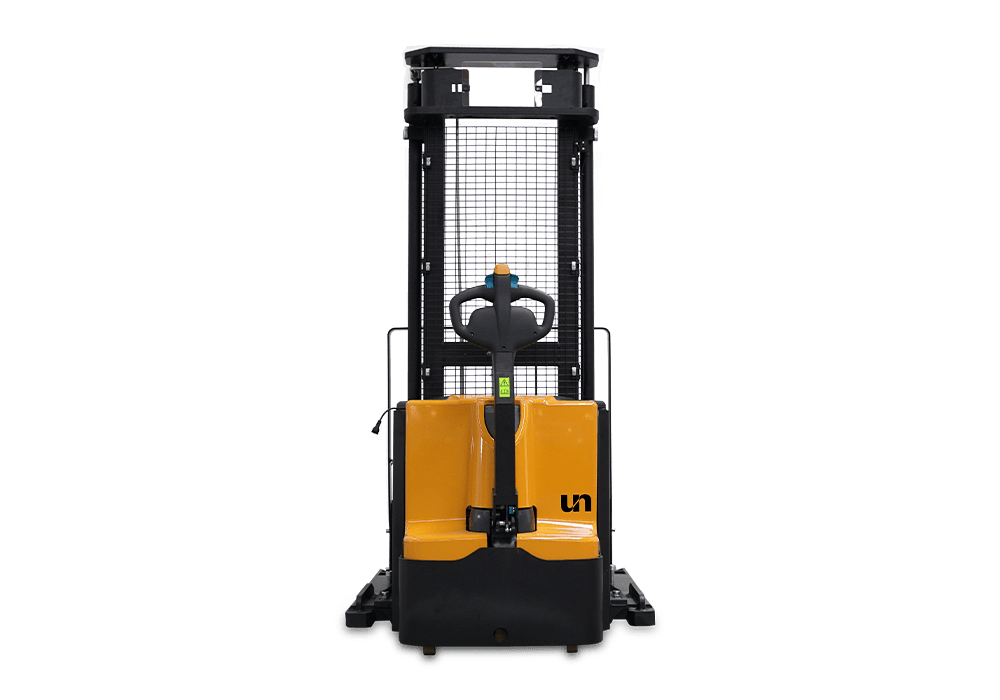 1200KG-1800KG
The PSXXTSL series is tailored to most pedestrian controlled stacking operations with capacities form 1200kg to 1800kg.
Mesh protection
● Mesh protection for safety as well as great visibility during operation, no reflection from Plexiglas and high robustness.
● The powerful Schab muller maintenance free AC Drive motor in combination with the ZF gearbox, Intorq brake and Rader Vogel drive wheel gives best performance, efficiency and reliability to reduce operating cost.
Built in USB-connector
● USB-connector for charging of additional devices during warehouse operations.
Straddle Leg
● Adjustable straddle leg design, suitable for diverse pallet sizes and more stability.
Maintenance friendly
● The trucks design and component placement allow for easy service and maintenance. Two screws are used to hold cover in place allowing fast and ease access to all components. Drive wheel and caster can be removed and replaces without use of additional lifting devices.