When shopping for a new forklift, you need to know what to look for and what to avoid. There are many different factors to consider. Our goal is to find the right heavy-duty forklift for your needs.
If you want to transport and move heavy objects, you need to choose a
heavy-duty forklift
. Such equipment is provided to help you lift and move bulky items. You can choose from models with capacities from 10 to 46 tons. In addition, forklifts are versatile and can be equipped with a variety of attachments.
These devices are built to last and designed to operate efficiently. They are also used to protect teams and cargo. Some of the safety features of these machines include anti-rollover devices, real-time monitoring systems and other software systems that can detect and prevent tip-overs and breakdowns.
Heavy-duty forklifts are used in many industries. You can choose from a range of designs that can handle a variety of materials. For example, you can get forklifts that can handle concrete, stone, wood, and steel.
Heavy-duty forklifts feature innovative designs and quality components. They also feature industry-leading engines.
New heavy-duty forklift, designed for tough indoor conditions. They feature a high-visibility design and a durable, low-profile frame. Their unique forklift features include side thrusters, heavy duty steel cross braces and impact resistant tires. The forklift can lift a load of 40 tons when fully extended.
The new heavy-duty forklift is equipped with a 7-inch multi-functional touch screen control center. This allows operators to access critical information and performance details. Additional features include telescoping arms to help with lifting and lowering loads.
The forklift has a two-speed hydrostatic transmission for optimum power. In addition, they are equipped with cushioned tires. Among other attachments, they can also be fitted with jib attachments to add additional support to the load.
These forklifts can be found in a variety of industries. Whether the operation involves a warehouse, manufacturing facility or other industrial setting, these forklifts are the perfect choice. Whether you're looking for an electric forklift or a diesel forklift, you're sure to find a solution to meet your needs.
The model number of your forklift can help you determine its age. Some manufacturers list the year the model was built on the nameplate. Others don't. It's always a good idea to contact a dealer and ask.
Rough terrain heavy-duty forklifts are used in construction projects, warehousing and distribution. They provide increased mobility and safety. However, these forklifts can only be used in outdoor environments. Indoors, they can be too powerful. This could result in slowing down or unsafe driving conditions.
These machines come with large, knobby tires. Their tread is reinforced to prevent punctures and damage. The tires also maximize traction on uneven or soft surfaces.
Forklifts have a wide variety of attachments. These include winches, booms, fork positioners and tilt brackets. Each can improve the performance of the forklift.
Furthermore, these machines are available in a variety of models. The type of forklift you buy should be based on the type of work you do.
There are three main types of rough terrain forklifts. Front wheel drive forklifts, four wheel drive forklifts and two wheel drive forklifts. While a 2-wheel drive forklift is less powerful than a 4-wheel forklift, it is better suited for stable outdoor surfaces.
Rough terrain forklifts are usually made of galvanized steel or composite materials. These durable materials ensure your forklift can withstand any weather conditions.
For added worker safety, the forklift is equipped with a protective cabin. In addition, operators should wear seat belts, hard hats and safety glasses.
When using a forklift, it is very important to ensure that the load is properly balanced. If there is insufficient power, the elevator may slow down, putting workers at risk. It is also important to avoid speeding while driving.
Whether you're working on a construction site or in a manufacturing plant, a telehandler is vital equipment. They help you lift materials to higher positions and maneuver them around obstacles. Telehandlers are designed for maximum reach and can be customized for your specific job. However, there are some safety hazards to be aware of when using a telehandler.
For example, you may not be able to safely operate a telehandler on a slope or in a confined area. You should also make sure you have a safe plan for loading and unloading materials. It's also a good idea to make sure you have proper lighting when performing night jobs.
Another consideration is the type of attachments you can add to your telehandler. There are several different types, and they are designed to work with machines to enhance their capabilities. These attachments can change the way a telehandler works, and the load capacity it can handle.
The most common telehandler attachment is the forklift. This is used to lift and carry pallets. Additional accessories include grab buckets, work cages and hooks. Each has a different size and weight capacity.
Also, you can use a telescoping boom. This attachment allows you to lift material up to 60 feet off the ground. Telehandlers can also be equipped with load stabilizers, which increase the lifter's ability to handle heavy loads.
Although they are often used in agriculture, telehandlers can be found in a variety of industries. They can be used to move heavy objects and can even be used in place of a crane.
A forklift is an essential tool in any workplace. They move materials, including heavy loads, up and down ramps and into trailers. However, they can be dangerous if used incorrectly. With the right precautions and training, they can help improve workplace safety.
Forklift regulations are a good place to start. There are many things to keep in mind when operating a forklift, and there are plenty of resources on the internet to get you started.
For example, don't drive a forklift over a standing person. Also, if your truck has lifting forks, use a safety platform. Not only is this a practical requirement, but it's also a good idea to ensure your lift meets safety standards.
The safest way to climb on or off a forklift is to wear a seat belt. Also, be sure to check your fork and chain tension before attempting this.
You should also be careful with the door. Check to see if they are blocked by debris or other objects. If yes, you could be in a serious accident.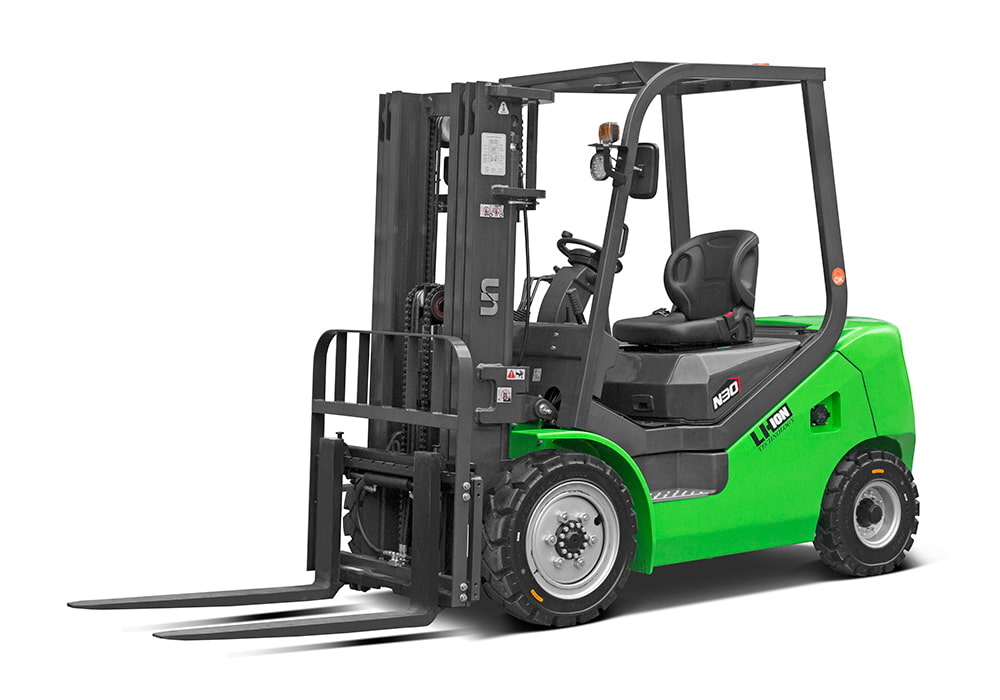 The NL series new lithium battery forklift, capacity from 2,000 to 3,500kg, adopts UN internal combustion forklift 's design with the strong chassis, frame, counterweight and mast. 
The power structure is designed to adopt UN electric forklift's concept, which use full AC system, Italian imported ZAPl controller, BMS control system and high quality lithium battery. 
This combination of IC forklift and electric forklift makes an ideal solution to reach customers' satisfaction on cost saving and environmental friendly.