Using a forklift is the best way to ensure that your warehouse operations run smoothly, and you will find that you can purchase many types of forklifts for your warehouse. You'll find that you can purchase a number of reliable vehicles to keep your operations running smoothly. However, it is important that you know which forklift is best for you.
There are two main types of forklifts: electric forklifts and gas forklifts. A large number of forklifts used in warehouses and construction sites today use gasoline to power the forklifts, but electric forklifts are some of the best you can buy. If you are looking for a high-quality forklift that is reliable and affordable, you may find that an electric forklift is just what you need.
Electric cars use batteries that charge overnight. A fully charged battery allows the forklift to run continuously for about 6 hours. If your warehouse can only work 8 hours, you may find that keeping the battery fully charged can keep your forklift running throughout the shift. Unless you run your forklift for 6 hours straight, you'll find that your forklift battery should be more than enough to keep the forklift running. If your forklift needs to run for more than 8 hours, you can always buy secondary batteries.
Another reason you should consider buying an electric forklift is that you will do much less damage to the environment than with a gas forklift. Even though a gas forklift that uses the cleaner propane gas still emits exhaust into the air, an electric forklift will be cleaner. Since there are no combustion gases, no air-polluting emissions are released. Recharging the battery is easy, and you'll find your electric forklift to be the greenest vehicle in your warehouse.
One of the best things about electric forklifts is that the motors are very quiet. The engines of gas forklifts are much noisier than electric forklifts because their motors need to be more powerful to run and burn gas to power the engine. Electric motors are much quieter and you will find your forklift easy and quiet to use.
The biggest advantage of
electric forklifts
is that they are easy to use. Since you just plug it in to charge, you can simply let the forklift charge overnight and have it ready to go the next morning. Electric forklifts are easier to use than gas forklifts, and you may find that your electric forklift is the perfect addition to your warehouse equipment. Since you can easily learn the equipment, you'll find your warehouse operations are cheaper, easier, and run more smoothly.
NL Series 2.0T-3.5T Li-ion Battery Forklift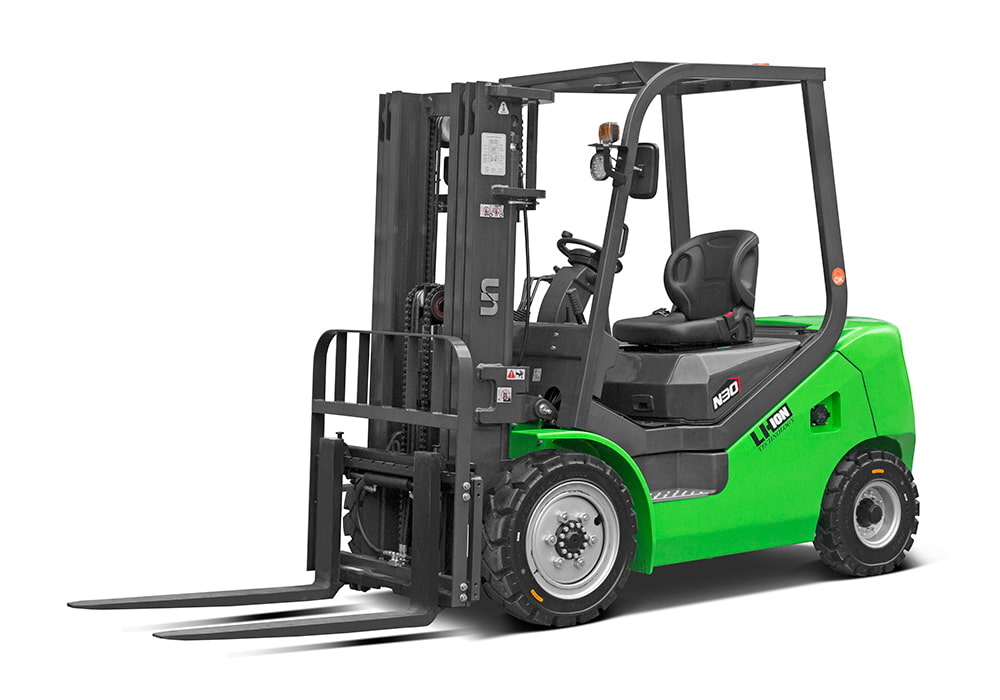 The NL series new lithium battery forklift, capacity from 2,000 to 3,500kg, adopts UN internal combustion forklift 's design with the strong chassis, frame, counterweight and mast. 
The power structure is designed to adopt UN electric forklift's concept, which use full AC system, Italian imported ZAPl controller, BMS control system and high quality lithium battery. 
This combination of IC forklift and electric forklift makes an ideal solution to reach customers' satisfaction on cost saving and environmental friendly.