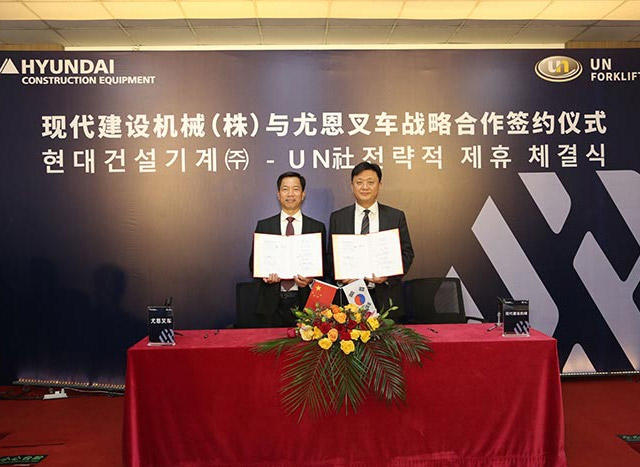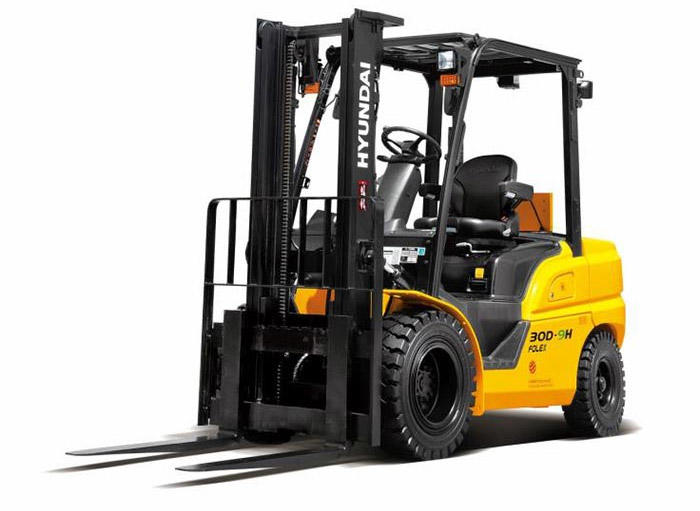 Zhejiang UN Forklift CO.,Ltd and Hyundai Construction Equipment formally signed a strategic agreement. Since then, UN Forklift has become an important OEM partner of Hyundai, which will realize the perfect integration of technology and brand advantages of both sides .It will also open a comprehensive strategic cooperation mode in the field of forklift. Both UN & Hyundai will work together to launch new forklift products and jointly achieve new benchmark products in the industrial vehicle market.

The signing ceremony was successfully held in the factory of UN Forklift. Yu Yibo, Secretary of the Party Committee of Xindeng Town, Kim Sang-woong, President of Hyundai Construction Equipment and Park Jin-soo, CFO of Hyundai Construction Equipment , Wu Jinxian, Chairman of UN Forklift, and Zhu Liexin, Executive Vice President of UN Forklift, attended this ceremony and made a speech. Wu Jinxian and Kim Sang-woong signed a strategic cooperation agreement on behalf of both companies.

President Kim Sang-woong pointed out in his speech that Hyundai Group of Korea is one of the world's top 500 enterprises and its subsidiary, Hyundai Construction Equipment , is one of the world's leading brands of construction equipment. In order to accelerate the development of forklift market, Korea Hyundai Construction Equipment signed OEM strategic cooperation agreement with Zhejiang UN Forklift , which has rich forklift manufacturing experience and technology. Both companies hoped to take this opportunity to further expand the development space , promote complementary advantages and achieve common development.

UN's Chairman Wu Jinxian welcomed the arrival of President Kim Sang-woong and other members of the party, and briefly reviewed the negotiation process between the two companies.

After decades of development, UN Forklift has already possessed good industry foundation, mature manufacturing capability and technology development & innovation capability, as well as robust supply chain system and management advantages. As the OEM partner of Hyundai , UN Forklift will continue to strengthen internal management, promote production, promote technology and process innovation, speed up new product development, seize the opportunity to introduce talents. All these will improve the quality of the OEM products.

As the saying goes, "With a lofty heart, we should be on the ground". Taking this signing as an opportunity, UN Forklift will take advantage of the national implementation of "going out" and "one belt, one road" and other major overseas strategies, and actively promote the implementation of the agreement as soon as possible through cooperation at the technical and financial levels. With the concept of sincere cooperation and mutual benefit, Both companies will join hands and create new miracles and bright future together!